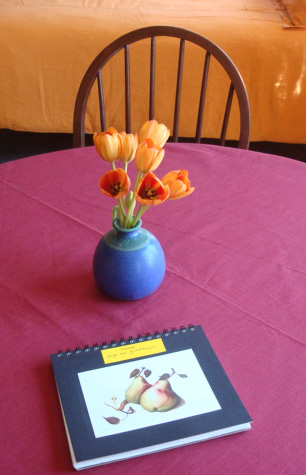 We are a family-friendly B&B, consisting of a sunny, private and spacious 600sf studio apartment. Located 5 minutes from downtown on Ithaca's West Hill (and 10 min to Cornell or Ithaca College) we're in the Song neighborhood of EcoVillage at Ithaca. Just outside your door is a beautiful one acre swimming pond and 175 acres of fields, meadows and woods. Ideal for extended stays or families looking for a comfortable home base from which to explore the Finger Lakes or learn about life in cohousing.
Private full bath & fully equipped kitchenette
Sleeps 4: queen bed (organic latex mattress) & double 8" organic futon
Self-serve breakfast featuring local and organic food
Stone patio with terraced garden and raspberry bushes
High speed wireless internet access
Tv-free tranquility
Pet-free and hypoallergenic space
Miles of hiking trails through fields & woods
Play area with wooden play kitchen, natural toys, board games & children's books
Swing set, sandbox and numerous kids nearby
Quiet in the evenings, with the exception of frogs, toads, crickets & coyotes
LGBT-friendly hosts and neighbors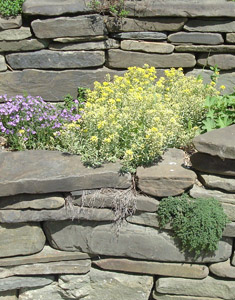 Our room rate is $150 for the 1st night of your stay, $125 for 2nd and 3rd night, and $100 for all subsequent nights. Tax is 11% (sales tax 8%, room tax 3%).
| Stay | Subtotal | With Taxes |
| --- | --- | --- |
| 1 Night | $150.00 | $166.50 |
| 2 Nights | $275.00 | $305.25 |
| 3 Nights | $400.00 | $444.00 |
| 4 Nights | $500.00 | $555.00 |
| 5 Nights | $600.00 | $666.00 |
| 6 Nights | $700.00 | $777.00 |
| 7 Nights | $800.00 | $888.00 |
Contact us to confirm availability for your visit. A check mailed to us for $100 will hold your reservation.
Payment is by check or cash. We currently do not accept credit cards.
Cancellation: Deposit is 100% refundable if canceled at least 2 weeks in advance, and otherwise 50% refundable;
Check-in hours are 3PM to 8PM (or by arrangement).
Check-out is by 11AM (or by arrangement).
No pets or smoking allowed.
Children must be supervised during your visit (deep pond nearby!)
Please click this link to view our calendar in a separate window.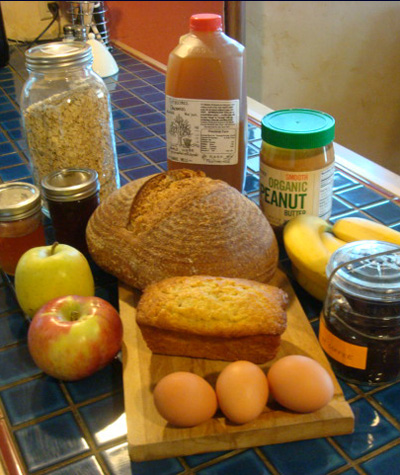 Enjoy a taste of the Finger Lakes while staying at The Swallow's Nest! We are so lucky to live in an area where the local foods offerings are plentiful, and we are delighted to share some with you. Arabez hand selects each part of our organic, local self-serve breakfast to give you a taste of the season. From locally baked bread and coffee to seasonal fruits and juices, Arabez visits the Ithaca Farmers' Market and the GreenStar natural foods co-op to find the most flavorful examples of what our area has to offer.
In addition, we offer eggs from our chickens, honey from EcoVillage bees, and homemade sweetbreads and jellies. We welcome all types of diets and will customize our offerings to suit your preferences. Ithaca is a paradise for foodies! We are happy to recommend our favorite local eateries, you-pick farms, farmers' markets, wineries and more.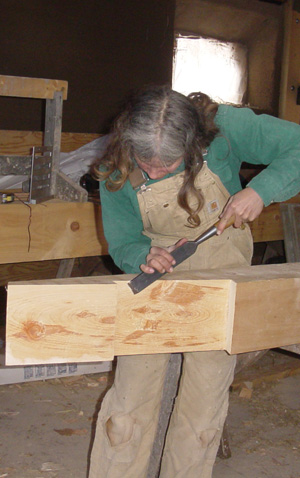 The studio features a concrete floor that provides radiant hydronic heat in winter and passive geothermal cooling in summer. The sinks, interior doors and cabinetry were salvaged, bringing the character of their long former history with them. The walls of the studio are Durisol block, an insulated concrete form that consists of 100% recycled clean scrap wood fibers coated with cement, hand finished with a clay/sand/lime plaster. The all-natural furnishings, available through our retail business Home Green Home, include a 10" queen organic mattress (natural latex), an 8" double futon sofa made with organic cotton and domestic wool, 100% organic cotton bed & bath linens, and locally made organic soaps.
The duplex, of which the studio is a part, features a hybrid timberframe structure crafted by Sarah Highland (pictured at right) and Aaron Dennis. The frame incorporates six 19th century barn timbers. The walls are insulated with vertical straw bales which are plastered on both sides, and protected by a rain screen of unfinished hemlock siding. Our 2500W of photovoltaic panels provide a net annual surplus of electricity for our home and the B&B. Domestic hot water is provided by evacuated-tube solar thermal collectors with a high-efficiency natural gas boiler as backup. Primary heat for our home comes from our Finnish masonry stove and about one cord of firewood per season. Many salvaged materials were used throughout the home. Copper and iron plumbing was used (no PVC). The duplex is featured in the book The Hybrid House by Catherine Wanek.
The name "Swallow's Nest" was suggested to us by our earthen plaster, which is not unlike that favored by the barn swallows who nest in the EcoVillage carports, and can be seen from the studio swooping low over the pond in search of a meal.
From downtown Ithaca, proceed west on Route 79 (State St) about 2 miles past Meadow St (Rt. 13). You'll pass West Haven Rd on your left. Take your next left onto Rachel Carson Way (EcoVillage entrance), which is a gravel road. When you come to the residential area, bear right. Park in area to your left near "Welcome to Song" sign.
Garden carts are available at Song neighborhood entrances for carrying luggage. Our home will be the 3rd one on the left. Our duplex is the one with yellow plaster on one porch (#205), and blue on the other (#207). The studio is around back at #205.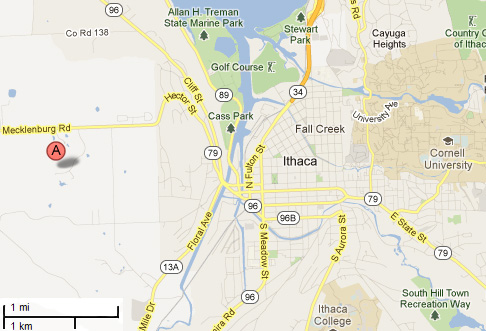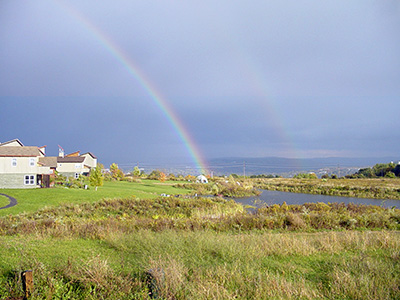 Mailing Address:
The Swallow's Nest Bed & Breakfast
205 Rachel Carson Way
Ithaca, NY 14850
Owners:
Arabez & Bradford Smith
email: hosts {at} swallows-nest {dot} com